The Upper Xingú is the region of the headwaters of the Xingú river, one of the major southern tributaries of the lower Amazon. The region is located at the southern edge of the Amazon region. It is in the transition zone between forest and savannah. The maps show the exact localization. Around the Park, impact of deforestation is very intense; this is one of the main soy producing areas in Brazil.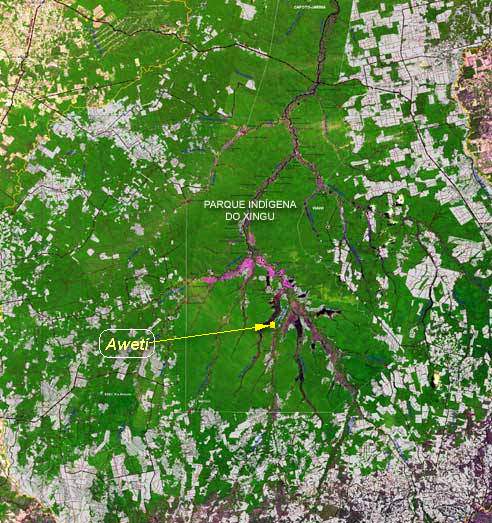 Deforestation around the Xingú Park and location of the Awetí village
The Indigenous park was created in the 1960ies and is a fraction of the traditional cultural area inhabited and utilised by the Xinguan groups. The first expedition to the area was undertaken in the 1880s by a German explorer, Karl von den Steinen. The Awetí still live in the very same small area were they were visited by von den Steinen.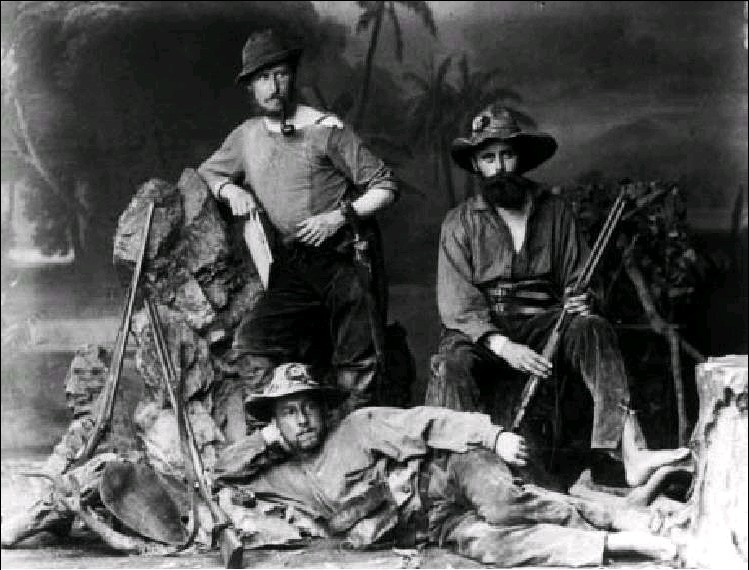 Karl von den Steinen (r) and the German members of the first Xingú expedition 1883
There are two Awetí villages now. Both are located between the Curisevo and the Tuatuarí rivers. The recently built second village is located some 5 km south of the "Posto Leonardo". The main village, Tazu'jyretam, is some 15 km further south, also at the right side of the Tuatuarí river. It is reached via its port, Tsuepelu, which was also already in use at the end of the 19th century, mentioned by von den Steinen.
The Awetí area is in the centre of the Upper Xingú cultural region, between the Arawak speaking peoples west (Waurá) and south (Mehinako) and the Karib speaking peoples (Kuikuro, Kalapalo, Nahukwá, Matipú) east, along the Kuluene river. North of the Awetí live the Tupí-Guaranian Kamayurá and the Yawalapiti (Arawak) and, further down the Xingú river the Trumai, speaking an isolated language.