Ėven is a North Tungusic language spoken over a vast area of northeastern Siberia, from the Lena-Jana watershed in the west to the coast of the Okhotsk Sea, Chukotka, and Kamchatka in the east. There is as yet no consensus on the internal branching of the Tungusic language family, since contact both among Tungusic dialects and languages and with unrelated neighbouring languages has led to the diffusion of features across linguistic boundaries. Without postulating any genealogical classification, the three main branches of Tungusic consist of:
North Tungusic:
Evenki (possibly including Solon and Oroqen)
Negidal
Ėven
South Tungusic (also called Amur Tungusic):
Nanai (possibly including Ulcha and Orok)
Udihe (possibly including Oroch)
Manchu:
Written Manchu and its spoken dialects
Jurchen (extinct)
Due to the spatial fragmentation of the Ėven communities, several dialects have emerged which are classified into two major dialect groups: Western and Eastern. These dialects form a continuum with pronounced lack of mutual intelligibility between the extremes.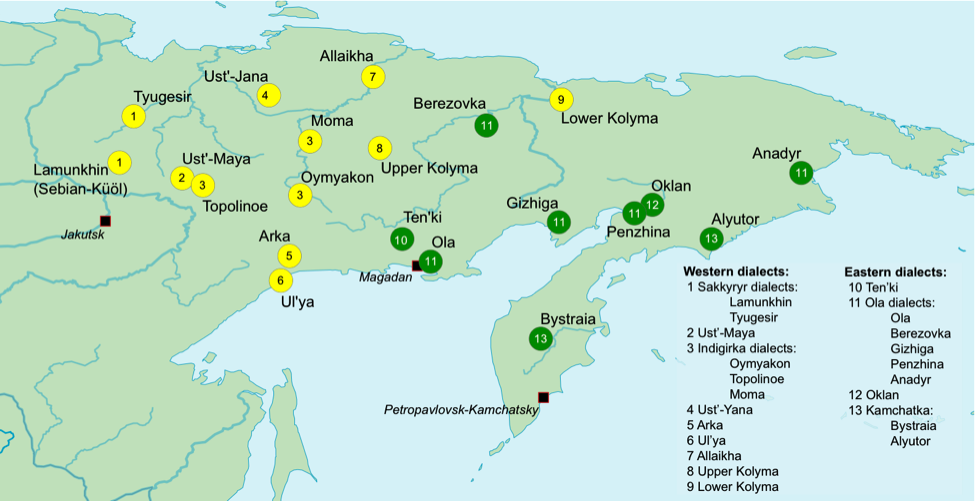 Dialectal diversity

The dialectal differences exist at all linguistic levels. These are some examples:

Characteristics

Bystraja dialect

Tompo dialect

Lamunkhin dialect

Phonology

loss of initial h– in
Bystraja dialect

aːram

'I know'

haːram

'I know'

difference in word-final –h
 

bukeʃ

'ice'

bokeh

'ice'

bohko (bokes with metathesis of h and k)

'ice'

Morphology

necessitative

-nnE-

emennewu

'I should come'

-nnEŋE:t-

emenneŋeːtu

'I should come'

-jEktEːk- + Sakha person marking

emejekteːkpin

'I should come'

habitual/generic

-WEːČ-

orro:ttem

'I go usually'

-Gr(E)- / -WEːČ-

horgererem / horre:ttem

'I go usually'

-Gr(E)-

horgererem

'I go usually'

Syntax

 NP-internal agreement

obligatory
ịla-m
ńarị-l-ba
three-acc
boy-pl-acc
'three boys'

 

both with and without agreement
dʒoːr-bu
ineŋi-w
two-acc
day-acc
'for two days'

 

erek-Ø
ịlan–Ø
ńarị-ńun
prox
three
man-com
'with these three men'

 

no agreement
tar- Ø
ịlan- Ø
kụŋa-l-duk
dist
three
child-pl-abl
'from those three children'

 

Lexicon
'summer'
dʒụgani
dʒụganị / dʒụgụnị
irildu
'eleven'
umenńulek
mịan omen
mịan omen