Los investigadores procuraron documentar una panorámica de aspectos del patrimonio cultural de la Chontalpa Baja de Oaxaca para proveer datos, productos y otros materiales para una variedad de estudios interdisciplinarios en el futuro.
The principal investigators endeavored to document a wide panorama of aspects of the cultural heritage of the Lowland Chontalpa of Oaxaca, to provide data, products and other materials suitable for a variety of interdisciplinary studies in the future.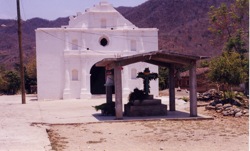 San Sebastian Church, Huamelula
Documentation products – Productos de la documentación
Collection of historical and mythical-historical narratives of the Chontal past.
Documentation of local knowledge on prominent landmarks, territorial boundary markers, abandoned settlement sites and other aspects of flora and fauna.
Recording of Chontal terminology of agricultural and environmental phenomena.
Chontal descriptions of traditional cultural practices.
Dictionaries.
Grammatical descriptions and other language materials.
Electronic archive of video, audio and text files.
La colección de narraciones históricas y mítica-históricas sobre el pasado chontal.
La documentación de conocimientos nativos sobre límites, mojoneras, pueblos abandonados y otros aspectos de la flora y fauna.
La grabación de la terminología chontal de la agricultura y los fenómenos del medio ambiente.
Descripciones chontales de las prácticas culturales y tradicionales.
Diccionarios.
Descripciones gramaticales y otros materiales sobre la lengua
Acervo electrónico de video, audio y textos.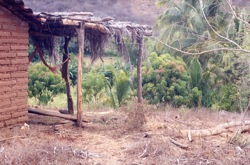 Hammock in country patio
The corpus structure – La estructura del corpus
01 History – Historia
Oral history – Historia Oral
Personal stories – Historias personales
Towns – Pueblos
Written works – Trabajos escritos
02 Society – Sociedad
Courting – Enamorando
Daily life – Vida cotidiana
Food – Comida
House – Casa
Marriage – Casamiento
Religion – Religión
Work – Trabajo
Papers by others – Escritos de otros
03 Person – Persona
Body – Cuerpo
Death – Muerte
Illness – Enfermedad
Medicine – Medicina
04 Geography – Geografía
Land – Tierra
Maps – Mapas
Water – Agua
Written works – Trabajos escrito
05 Nature – Naturaleza
Animals – Animales
Plants – Plantas
Riverlife – La vida del río
06 Festivals – Fiestas
General documents
General photos
All Saints – Todos Santos
Holy Cross – Santa Cruz
Rosary – Rosario
St. Peter – San Pedro
07 Music – Música
Playful songs – Canciones chistosas
Huamelula Blues
08 Language – Lengua
ALIM materials
Articles – Artículos
Interaction – Interaccción
Phonology – Fonología
Stimulus data – datos de Estímulo
Teaching – Enseñanza
Wordlists – Listas de palabras
09 Literature – Literatura
Folk – Popular
Haunted House – Casa de Espanto
Poetry – Poesía
10 Dictionaries – Diccionarios
Brief intoduction – Breve introducción
Orthography alternatives – Alternativas ortográficas
Chontal to Spanish – al Español
Chontal to English – al Inglés
Thematic – Temáticos
11 Final Expo – Charla Final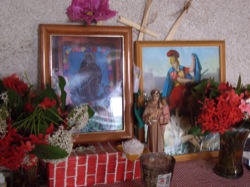 Guille's home altar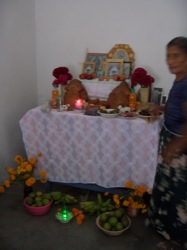 Petrona's All Saints´Altar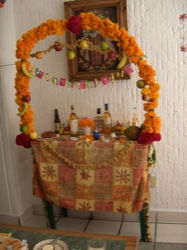 All Saints' Altar, Huatulco restaurant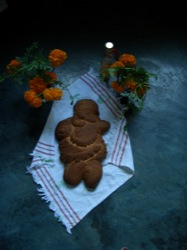 Bread man, for All Saints' Day