Project structure and main goals
Our core objective was to provide comprehensive audiovisual documentation of the languages paired with rich linguistic and ethnographic annotations. The project was divided into three groups with different responsibilities:
Linguistics – Balthasar Bickel, Novel Kishor Rai, Vishnu Singh Rai
Ethnography – Martin Gaenszle, Judith Pettigrew
Language acquisition – Sabine Stoll, Elena Lieven
The general coordinator and grant administrator was Balthasar Bickel. Linguistics and ethnography were studied in both the Chintang and Puma field sites. Language acquisition was only studied for Chintang.
The project was administered by the Department of Linguistics at the University of Leipzig and was a member of the Linguistic Survey of Nepal (LINSUN) initiative, which was launched in 2002 by the Department of Linguistcs at Tribhuvan University, Kathmandu. The linguistics departments of the two universities cooperated systematically on the base of a Memorandum of Understanding.
Cooperations were also set up with the Center of Nepal and Asian Studies (CNAS) at Tribhuvan University, where the project offices were located, and with the Max Planck Institute for Evolutionary Anthropology in Leipzig.
The diagram below shows the cooperations of CPDP.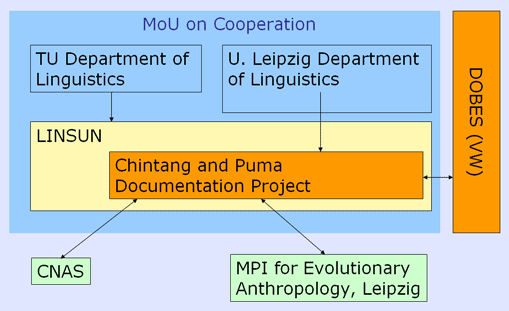 TU – Tribhuvan University, Department of Linguistics
LINSUN – Linguistic Survey of Nepal
CNAS – Center of Nepal and Asian Studies
U. Leipzig – University of Leipzig, Department of Linguistics
MPI – Max Planck Institute for Evolutionary Anthropology
DOBES – Dokumentation Bedrohter Sprachen (Documentation of Endangered Languages)