Savosavo is spoken on Savo Island in the Central Province of the Solomon Islands, a small volcanic island with a diameter of about 6 km. The highest point is 485 m above sealevel. It is located about 35 km from the capital Honiara, at 9° 08′ South, 159° 49′ East.
Click the Google logo to view a larger map

The villages are in the coastal area around the island, with gardens on the slopes in the inland. The island is the tip of a dormant volcano, so there are warm wells in some villages, and several places, especially in the crater, where steam, gas and boiling water surface. The water of most of the streams and wells on the island is not suitable for consumption, and people have to rely on rain water for drinking water.
As for transport, there are no roads on Savo, so to get from one village to another one has to walk or use a canoe, these days usually fibreglass canoes with outboard motors. There is no regular ship connection to the capital, but there are canoes that take passengers across Mondays to Fridays in the mornings, and return in the evenings. To ensure reliable transport for the project, both around the island and to Honiara, a typical fibreglass canoe and outboard motor were purchased.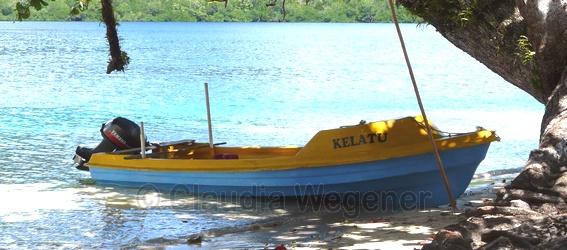 The project canoe Kelatu