Robert Cunningham at Araru
Iwaidja is an endangered Australian language spoken by around 200 people in the Cobourg Peninsula, Northern Territory, Australia, and adjoining islands. It exists alongside (and has largely replaced) other more heavily endangered languages of the Iwaidjan family, like Amurdak, Ilgar/Garig, Manangkarri and Marrgu. The last speakers of two of these languages have passed away since the original project proposal, though fortunately there are still people who understand the language enough to help with transcribing previously recorded data. Although Iwaidja has functioned as the regional lingua franca in the Cobourg Region for the last fifty years, and some children still speak it, it is now giving way to English and also to Kunwinjku (Bininj Gun-wok), a language originally spoken in inland communities to the south.
Ngalangila
This creates a complex situation where Iwaidja is both replacing and being replaced by other languages. Overall, the language is seriously endangered. Only a few children are learning it and it is being used in fewer and fewer domains. The knowledgeable older speakers who are in full command of specialized vocabulary and the full range of grammatical forms, and who are able to tell full versions of traditional stories and provide complete commentaries on them, are almost all in their sixties or over. For Iwaidja, then, this is a crucial decade: there are still enough speakers around to constitute an active speech community, but by 2010 or so it is likely that many of these knowledgeable individuals will have passed away, taking their knowledge of Iwaidja language and culture with them forever.
Our project is documenting Iwaidja in a wide range of settings, paying particular attention to traditional hunting, fishing and gathering, ecological custodianship, kinship and genealogy, clans and social structure, knowledge of country and traditional sites, oral history, mythology and traditional song styles. To document traditional knowledge in these areas, relevant specialists are working alongside the core team of linguists and native language consultants. Specialists in ethnomusicology, material culture, archaeology and anthropology are participating as 'guest fieldworkers' for short periods, and additional specialist input relevant to the identification of plant, animal, bird, fish and shell species is being utilized through cooperation with various National Park and Conservation organizations. While the main focus of the project is on Iwaidja, material on the other Iwaidjan languages is also being recorded wherever possible.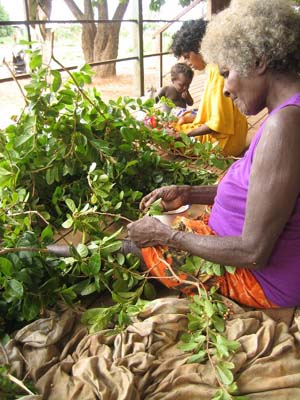 Preparing leaves for dyeing
The Iwaidja words in our project title – yiwarruj, yinyman, radbiyi lda mali – are four key terms used by Iwaidja people to explain what they want to see maintained and recorded in their culture (lda simply means 'and'). Yiwarruj is 'teachings', information which may be passed on through stories, songs, and narratives. Yinyman is 'language', normally interpreted to mean the indigenous language of the region. Radbiyi are 'systems' or 'procedures', the principles, including those contained in ceremonies and song-cycles, which lay down tracks for living and hold people together as law-abiding human beings. And mali is 'common sense', 'consideration', 'the capacity to think'. Our project aims to document Iwaidja with these key terms in mind, and with the dual aim of presenting this language and culture to the outside world of scholarship, and of helping the younger generations born to the groups of the Cobourg region to hold onto their linguistic and cultural heritage.