The project brings together a team of researchers having a long experience of fieldwork in the Nilgiris.
Two German social anthropologists (Heidemann and Demmer) and a French linguist (Pilot-Raichoor), work in cooperation with three Indian linguists (Muralidharan, Rajasekharan Nair, Ravindranath). According to their experience, Demmer will lead the documentation on the Jēnu Kurumba, and Ravindranath will work on the northern section of this culture. Rajasekharan Nair on the Mullu Kurumba, and Muralidharan on Cholanaikas. Pilot-Raichoor, in addition to being the linguistic coordinator, will do some complementary documentation of the Alu Kurumba. Heidemann will carry out visual documentation in cooperation with Pilot-Raichoor and Demmer. He will also work on the comparison of the three main focal points of the documentation – forest environment, daily life, oral-and ritual tradition – among all groups.
These scholars will share their expertise in specific domains to enhance their capacity to produce a rich and varied documentation on these languages.
A French PhD student in sociolinguistics (Reid Collins) is part of the team to study the questions of language shift in multilingual contexts.The combination of European and Indian researchers also ensures close cooperation with the indigenous people and the Indian scientific institutions. Several students, mainly Indians, will be associated with the fieldwork and the annotation of data, with a view to training them for the documentation of other languages.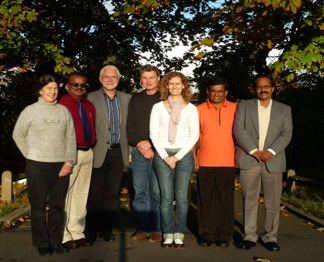 From left ro right: Christiane Pilot-Raichoor, R. Muralidharan, Frank Heidemann,Ulrich Demmer, Oriana Reid Collins, B. K. Ravindranath, N. R. Rajashekharan Nair.