The Bagyeli/Bakola hunter-gatherers in Cameroon and Equatorial Guinea constitute the western-most "Pygmy" group in Central Africa. They call themselves Bagyeli in the central and southern part of their region, while in the northern part, speakers call themselves Bakola.
The Bagyeli/Bakola live in pockets along the southern coast of Cameroon and inland about 150 kilometers, between the Nyong and the Ntem rivers. Some Bagyeli/Bakola are also reported to be living in Equatorial Guinea (Rio Muni), although most of the communities in Equatorial Guinea have migrated into Southern Cameroon.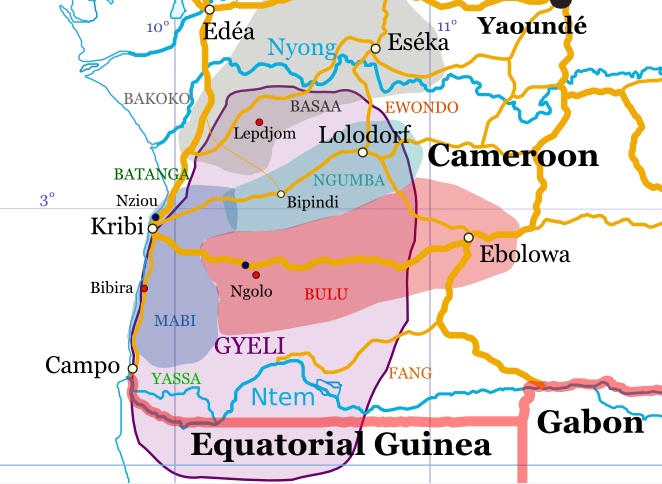 Map of the Gyeli/Kola area and its neighboring languages (by Nadine Grimm, May 2012)
This part of Cameroon has tropical climate with a long dry season from November to February, a small rainy season from March to June followed by heavy rains in August and September. Vegetation is mainly tropical rain forest which is still relatively intact. However, as farming activities increase, more and more forest is cut down. So the area is dominated by thick rain forest as well as cocoa and cassava plantations, lots of waterways, streams, rivers and creeks–and borders the coast of the Atlantic Ocean.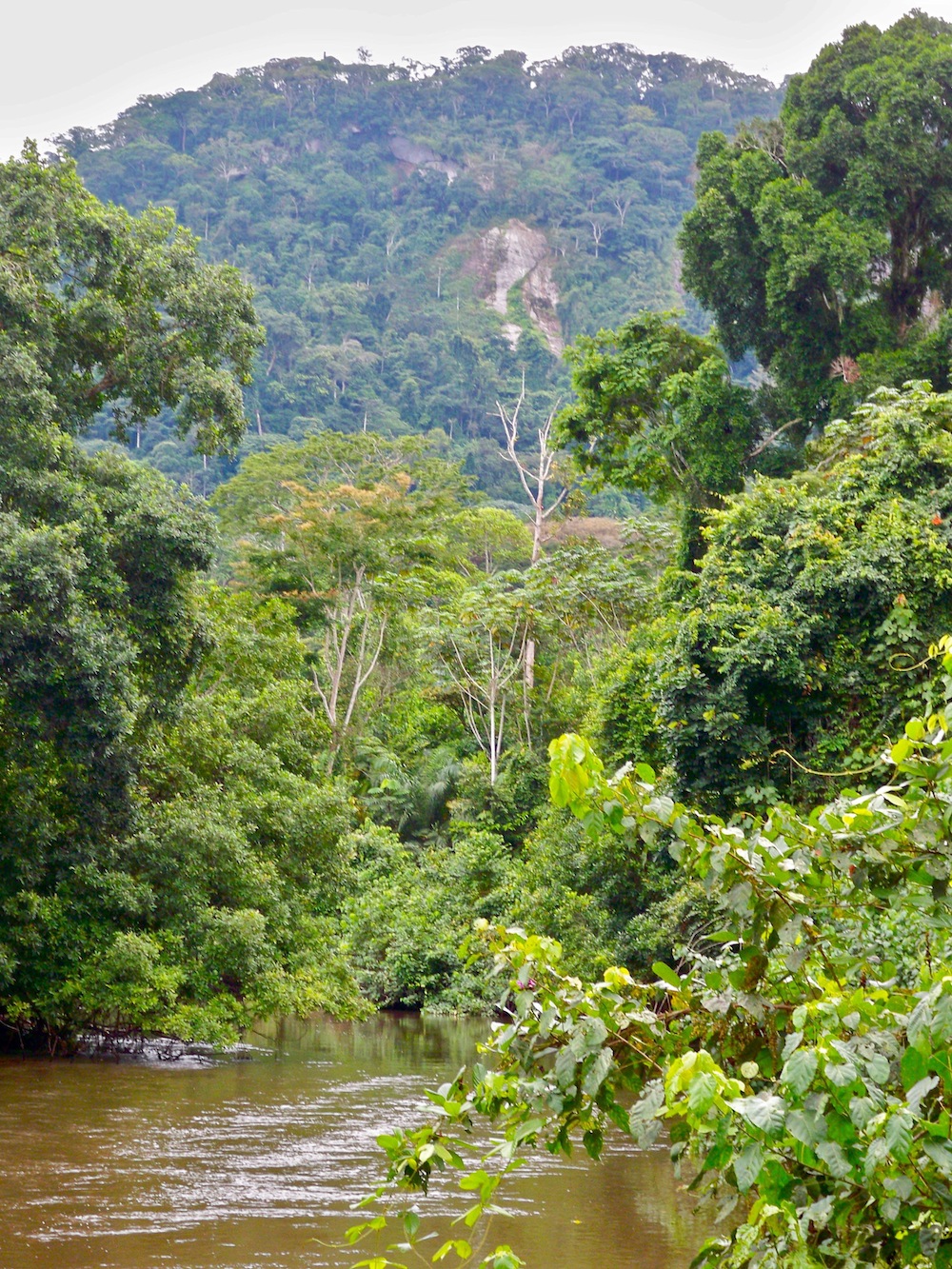 The Lokoundje river at Lolodorf (photo by Daniel Duke, August 2008)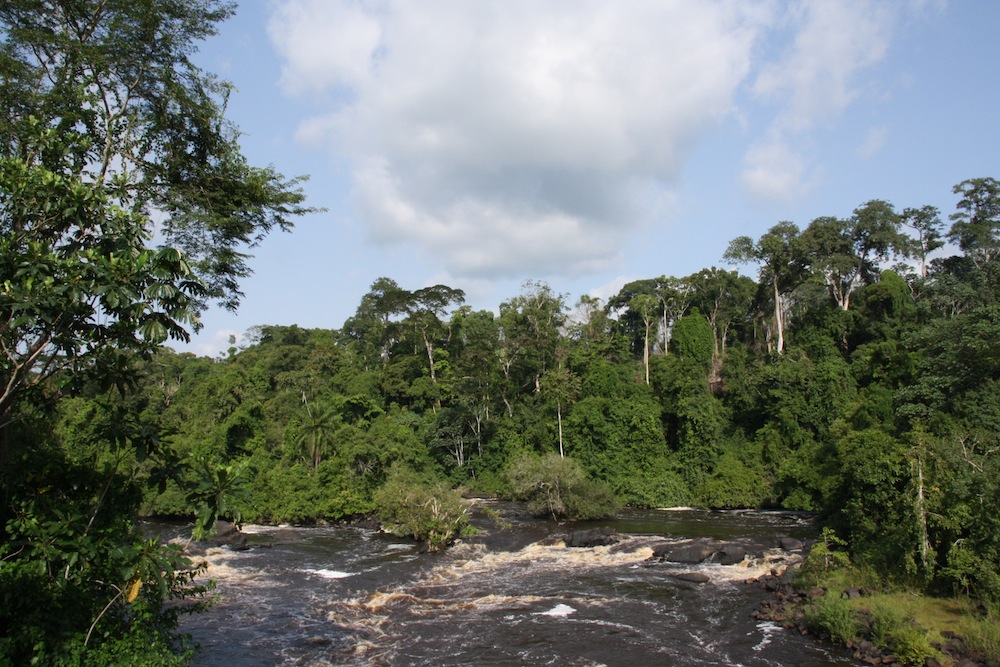 Nyong river (photo by Nadine Grimm, May 2010)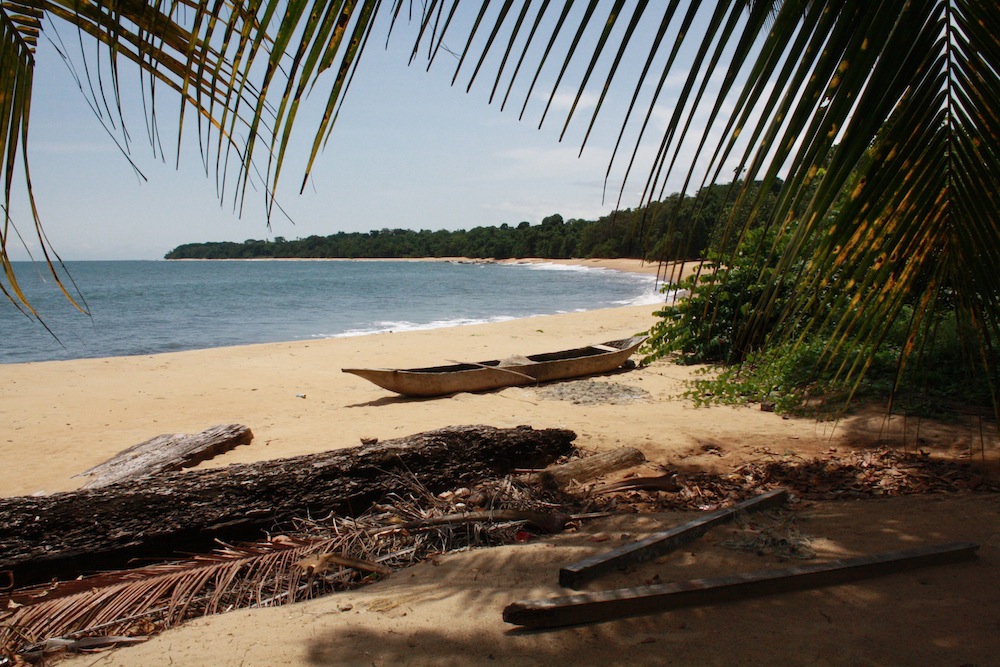 Paradis Plage in Lolabé (photo by Christopher Lorenz, May 2010)
The Bagyeli/Bakola people live in the regions which are less utilized by their neighbors: hill country, wetlands, abandoned village sites or cacao plantations, and protected lands (especially the Campo Ma'an nature reserve). Much of the land is secondary forest, and is therefore less useful for exploitation by the Bagyeli/Bakola. During the last ten years, the remaining forest was "cut in two" by the petroleum pipeline, which starts near the Sahara in Chad and ends up off the coast of Kribi. Now the land within and near the Campo reserve, prime ground for the Bakola way of life, will be further compromised. A railroad is to be built to bring iron ore from Mbalam (East Province) to the planned new deep-water port in Grand Batanga. The vast Hevecam rubber plantation, south and east of Kribi, is about to be doubled in size. There is also talk of expanding the industrial palm oil plantations (Socapalm and others). Smaller projects are springing up throughout the Ocean Division, including uranium mines, large banana plantations, rubber, palm oil and cacao plantations. Most of these projects displace some forest forager community, and the changing face of the land is likely to result in an increasing rate of assimilation into the farming communities.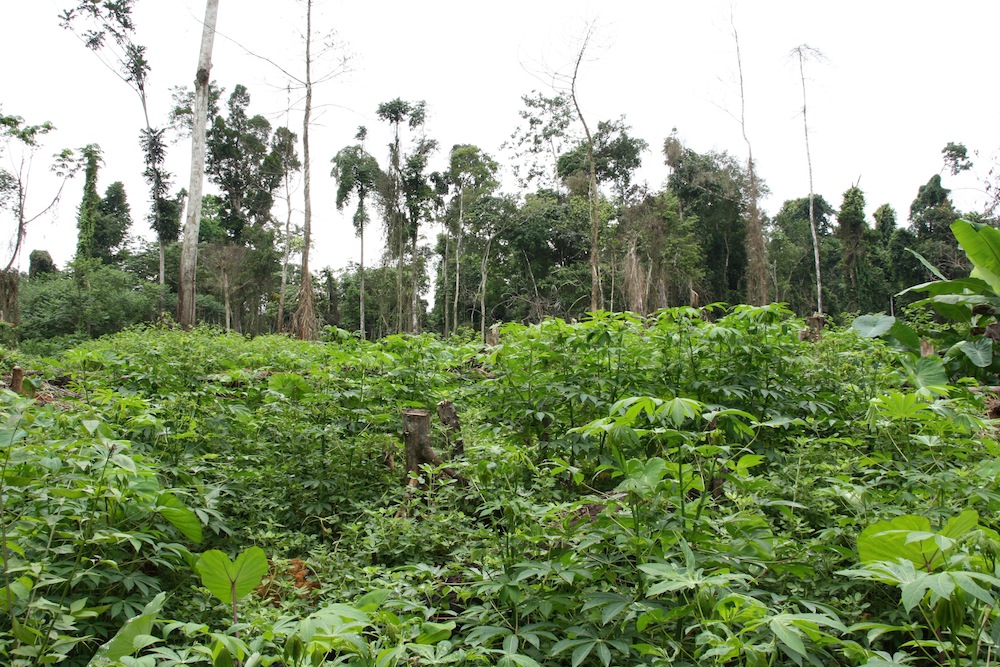 Cassava field cultivated by Bakola at Lepdjom (photo by Nadine Grimm, June 2010)
References:
Ngima Mawoung, Godefroy. 2001. "The relationship between the Bakola and the Bantu people of the coastal region of Cameroon and their perception of commercial forest exploitation," African Study Monographs. Suppl. 26: 209-235.